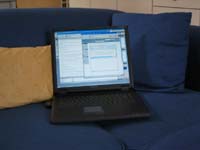 This week was digital :
I have a brand new laptop, which replaces my desktop PC at work. I call it "my mobile office". Before that, I was permanently transferring files between the desktop PC, some of the self-service laptops at work and my home PC. Waste of time, and even sometimes loss of files ! This a shiny Sony Vaio GRV516G : 2.4 GHz P4 and a 16" screen ! Of course, it's quite big, but it's not intended for nomadic use. I just want to be able to move it around between my "work" locations.
Next, I finally was able to get the Canon IXUS V3 I wanted for my birthday. A small digital jewel : hides in the hand (a 2.5 cm thick credit card), but takes wonderful pictures and even movies !
WiFi ! We have a WLan at work for laptops, so I bought a WiFi access point for my home. It's a D-Link DI-614+ : along with being a 22 Mbps WiFi access point, it includes an ethernet hub (to connect the "fat" PC), and a WAN connection for the DSL modem shielded by a featurefull firewall. All this for 150 euros !
I'm now blogging from the living room. Too cold today for blogging from the garden :-)