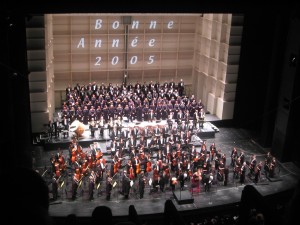 Bonne année à tous!

A happy new year to all of you!

This traditional sentence seems a bit cynical when thousands of people have died in Asia and millions are homeless. But well, the show must go on and we should be optimistic and help them be happy again.

On the picture, musicians and singers of the Opéra Bastille in Paris also wish you a happy new year. We went there today to listen to the new year's concert, which was Beethoven's 9th symphony, that ends with the Hymn to Joy.

I wish you the best for 2005 to you all, known and unknown readers, along with your families!