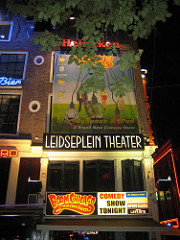 Last week was quite intense with the Joost 2nd company meeting, gathering something like 150 people! Lots of new faces, and also lots of face to face discussions with people working in other countries that I've had not met for a long time. Even with all modern communication tools, physical presence from time to time is invaluable. Formal meetings during the day, and social events and bars in the evening!

On Thursday evening, we went to the Boom Chicago improvisation show. The "Me, MySpace and iPod" theme is really suited to Joost'ers that can't live without their laptop or blackberry... The show was really good, and was specially adapted for Joost. Lots of good laughs, even if it was sometimes hitting where it hurts but really to the point. I'm wondering how much time they spent with Joost people to prepare it.

There were also a few guests in this meeting, among which Loïc Le Meur, who's been knowing Janus and Niklas, the Joost founders, for a long time. We had some interesting wild discussions on his new venture, particularly on how the meritocratic model of open source communities like Apache can be applied to some kinds of social networks.