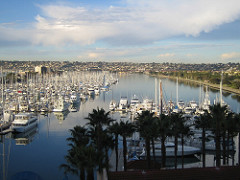 I arrived late yesterday in San Diego for the ApacheCon. The trip was longer than expected, as the plane from Paris to Atlanta took of 2h30 late, and I missed the connection for San Diego. Also, I caught cold a few days ago, and that caused problems in balancing air pressure in my ears, which causes me to be half-deaf. This is far from convenient to discuss with all the Apache'rs, but I hope things will get better soon.
Anyway, San Diego is a cool place. Sunny, warm and nice. That'll be a tough week :-)
I'll upload my pictures to Flickr, and there's already a few pictures with the apacheconus2005 tag.