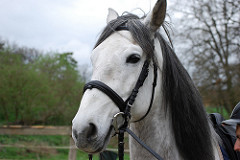 My wife Claire has been horse-riding for years, and wanted her own horse for her 40th birthday. That was 3 weeks ago, and the birthday gift arrived almost on time a few days ago. It takes some time to find a good match between the rider and the horse!
So we have a new pet (sort of): Novillero, a 7 years old lusitanian, a species from Portugal (see here for a larger photoset). He is a very responsive horse, which will allow Claire to make a lot of progress, but is also very stable and forgiving.
Of course the horse won't live in our garden! Even if quite large according to french standards, our 2500 m2 are way too small for him! He will live in a horse club 10 minutes away from our home, where he will also have a social life with other animals of his kind.
I'm not sure I will ever sit on his back though, since I started learning how to ride only a couple of months ago and this kind of horse requires an experimented driver :-)