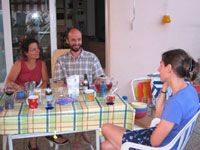 Yesterday we went to Switzerland (2 hours by car from our vacation location), did some sightseeing around ( and on) the Leman lake, and went for dinner at Bertrand's home near Lausanne.

Two families meeting each other after two of their members came to know each other in the virtual world. We met Bertrand, his wife Sylviane, their two daughters Marie and Elsa, their son Nathan, and all their pets : Chips and her puppies (one of them had left to its new home in the morning), the rabbit, the tortoise, the guinea pig and the two cats !

My two sons Corentin and Théophile splashed a lot in the swimming pool with Nathan, while parents were discussing around the table. Cocoon was mentioned very few, and only about its social environment. We only went online to see this. Amazing community !

I already met Bertrand last november in Gent and found him to be a very kind and cool guy, and his family is kind and cool as well. Thanks to the Delacrétaz family for this nice and pleasant evening !

PS: another picture here.