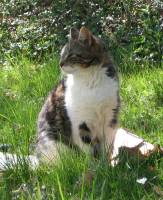 This entry should have been about our 10-day trip to Iceland, an amazing country which we enjoyed a lot. But it won't.

When coming back home yesterday, we discovered the dead body of Hercule, our 13 year old cat. It seems death caught him while he was sleeping, as he was in his favourite siesta position (head upside-down) under the shadow of a tree. He had started getting old a year ago, turning blind and then being weaker as months went by. He probably died because of the hot weather, just like too many old humans do.

Hercule is the french for Herakles, the greek hero. He was given this name because he was nearly twice as big as any of its 3 siblings. A strong, independent, but affectionate cat, that always appeared out of nowhere when we were coming back home, and loved the hours spent on our knees when watching movies on TV.

My kids always knew their cat (my oldest son was 1 when Hercule arrived), so this was a great pain for them. This was also a pain for us, parents, as we've been living daily with this cat for 13 years.

To ease the kids pain and help them realize Hercule was gone forever, we proposed them to participate to the burying in a quiet corner of the garden. This is their first real confrontation with death, and this was an occasion to have in-depth discussions about it. While digging, we talked about the constant renewal of life, how dead ones are nurturing new lives, and how Hercule will still live in our memories and through the children he certainly had.

Farewell Hercule...